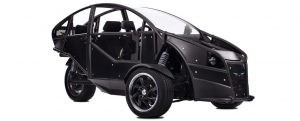 Gone are the days of the Gas guzzling cars. Also gone are the days you get caught in a storm on your bicycle. Power, safety and green – that is what this car is all about.
Arcimoto was at CES showing off their concept car. It's a prototype to the Pulse – a vehicle that looks and feels like a car, but is as energy efficient as they come. Best parts – it can get up to 70 MPH and is affordable to the public (The goal is to get it to $15,000).
With a full roll cage, it can be safer than a car. Standard parts make it easier to repair. It is perfect for the drive to work, or a quick stop to the grocery store.
Interview by Jeffrey Powers of Geekazine
Get your 14 day Free Trial of Audible Gold to start Listening to great Books!
GoDaddy services saves you money! New Customers Save 25% Promo Code CES25.
Podcast: Play in new window | Download
Subscribe: Apple Podcasts | RSS | More