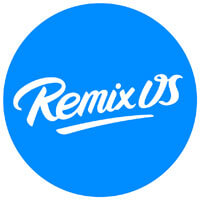 We do just about everything nowadays on our cell phones. We love our apps, from games and social media to email and shopping. It seems like everything that we need or want to do, we can take care of with an app on our phones. But there are those times when we need to move to our PC's to get certain things accomplished, even when there is an app for it on our phones, because it's easier to type on an actual keyboard and so much easier to see on our computer monitor. If only there was a way to use the apps on your phone with your computer monitor and keyboard. Well, now there is.
Jide has created Remix OS, the perfect device that allows you to use everything you love on your Android phone with your full size keyboard, monitor or even television. It's basically a merger between your mobile phone and your desktop. You are able to open up multiple apps at once on your large screen and also use many of the keyboard shortcuts that you are already use to using. This creates a really great user experience because even though you are using your Android, it feels familiar in a desktop mode with multiple window multitasking, screen capture and even a task bar.
You won't need to worry about your phone being able to keep with everything that you are doing. Mobile components are almost as powerful as PC components. Also, the Remix OS uses 90-95% less power than the traditional desktop PC. It's not only energy efficient but also very affordable at just $69.99.
For more information on the Remix OS and their upcoming units, Remix IO and Mini, check out their website. You can also still pre order the new Remix IO from Kickstarter.
Interview by Scott Ertz of F5 Live: Refreshing Technology for the Tech Podcast Network.
Sponsored by:
Declare war on crappy earbuds and treat yourself to a better headphone experience with new Monster headphones.
Blast to the future with the Monster Blaster: the boombox reimagined.
Meet the Microsoft Surface family, the most productive devices on the planet.
Follow TPN on Twitter: Techpodcasts; Facebook: TPNTV; Google+: TPNTV
Podcast: Play in new window | Download
Subscribe: Apple Podcasts | RSS | More