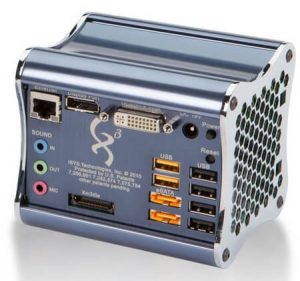 Xi3 has grown exponentially in the past few years. Shaking up International CES 2011 when the company debuted with an incredibly tiny computer, Xi3 won the Innovation Award that year for the Xi3 Modular Computer that only took 20 watts to operate. Three years later and the company has expanded to more form factors and styles to fit the needs of a broader market. And outside of the micro-computer, the Xi3 is launching a gaming console and a server this year as well.
For the computers, Xi3 showed off some new hardware as CES. The latest box features an AMD quad-core processor, 8GB RAM, up to 1TB of storage and can come pre-loaded with Windows or Linux. On the Intel side of things, Xi3 is working with the NUC line of hardware, allowing i3 and i5 Broadwell chips to live inside a unique and fully-powered case.
The X7A runs you $839 at the base model, up to $1,900 for all the features and power you need. For the NUC series, the Leon starts at $569, the Lear costs $599 and the Elli costs $469, all for the base unit of the computer.
Interview by Nicholas DiMeo of F5 Live: Refreshing Technology for the Tech Podcast Network.
Sponsored by:
From laptops and Lumia to Surface and Xbox, get it at the Microsoft Store.
Welcome to the Eureka! Factory, where great programs, projects, events and creative spaces and places happen!
Follow F5 Live: Refreshing Technology on Twitter: PLuGHiTzLive; Facebook: F5 Live; Google+: PLuGHiTz Live
Podcast: Play in new window | Download
Subscribe: Apple Podcasts | RSS | More