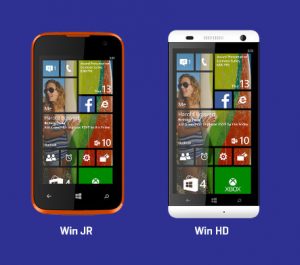 Yezz wasn't the only company showing off Windows Phones; Miami, Florida-based BLU Products also had a pair of Windows Phone handsets on display. These devices have been available through the Microsoft Store for a little while now, but we wanted to get a better idea of why BLU decided to join the Microsoft family, how they have been doing and what the future holds.
The two current handsets are the BLU Win Jr ($89) and the BLU Win HD ($179). In BLU tradition, the handsets are all done in wonderfully crazy colors, and available unlocked for better than reasonable prices. More importantly, the specs manage to keep pace with the better-known brands.
Apparently, this combination is enough to keep the phones on the move. The company says that the Microsoft Store has big demand for the handsets. In fact, while discussing the current handsets, we had the opportunity to discuss the company's future in the Microsoft ecosystem. Luckily, we will see new handsets added to the lineup, likely to coincide with the release of Windows 10 for Phones.
Interview by Scott Ertz of F5 Live: Refreshing Technology for the Tech Podcast Network.
Sponsored by:
From laptops and Lumia to Surface and Xbox, get it at the Microsoft Store.
Welcome to the Eureka! Factory, where great programs, projects, events and creative spaces and places happen!
Follow F5 Live: Refreshing Technology on Twitter: PLuGHiTzLive; Facebook: F5 Live; Google+: PLuGHiTz Live
Podcast: Play in new window | Download
Subscribe: Apple Podcasts | RSS | More