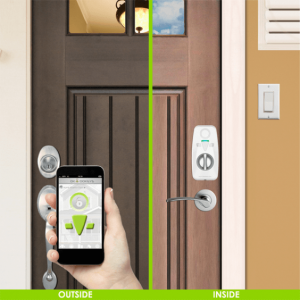 Todd Herion of Okidokeys joins us for the TPN CES live broadcast. Okidokeys is a smart lock and door solution. They want to take the flat key and connect with the other wifi devices.
Okidokeys lock uses a smartphone app to not only open locks for yourself, but also give access to friends and others. The web portal allows to share keys. Perfect for a vaction rental, time share or home rental.
This is a proximity range opener — no Wifi router needed. The lock has a motor which opens the door without needing the key. For an extra charge, you can set up a wifi solution so you can unlock a door while you are away.
The audio key will even work with non-smartphones. They call the number, set a pin code and a pitch will sound to unlock the door.
Prices start at $179. For more information, check out Okidokeys.com
[cessponsor]
Interview by Jeffrey Powers of Geekazine and Daniel J. Lewis of The Audacity to Podcast
Podcast: Play in new window | Download
Subscribe: Apple Podcasts | RSS | More