We are going to CES 2014. You can come along with us spirit and get mentioned on it. That is because TPN.TV started a Crowdfund to help raise money to help with our livestream efforts!
The Techpodcasts crew has come out to cover the Consumer Electronics Show since 2007. In 2011, we chose to add a new level of coverage by putting together a livestream booth. For the last 3 years you could watch the show as it unfolded right through TPN.TV.
2014 will be no different. This year we will add a new element – YOU!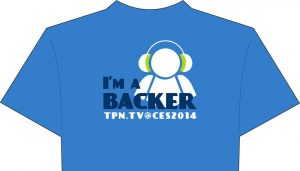 TPN.TV Crowdfund through FundAnything.com
We chose FundAnything as our Crowdfund platform for CES action. We are looking to cover at least $5,000 of the show. This will account for plane tickets, hotel rooms and other needs (taxi, car rental, shipping, etc).
With as little as $10, you can support our efforts at CES. For $25, we will send you a nice T-shirt that says "I'm a Backer TPN@CES 2014". These shirts are made through CafePress.
Other cool backer gifts will be coupons for 80% off a canvas photo print at Cafe Press, a PLAY 25X TV mount from Omnimount.com, podcast coach time from Jeffrey Powers and Howtorecordpodcasts.com and much more!
Help Us Meet Our Goal!
The more you help means the more we can do for this year's coverage. We want to be your primary source for CES 2014 with our best Independent coverage. So please check out the levels and back us at what you can spare.
Thanks!