H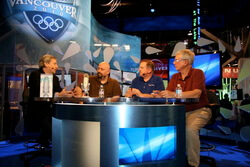 ost Todd Cochrane from Geek News Central and The New Media Show with Host Don Baine The Gadget Professor will be broadcasting live from NAB each day @ the LiveStream Broadcast booth. Bringing you our fast pace styled coverage.
We will reach the 14,000 plus media creators plus the 13 million audience members that tune into TPN
Our Broadcast Schedule is as follows:
Monday, April 8: 1:45-4:00 pm PT
Tuesday, April 9: 2:15-4:00 pm PT
Wednesday, April 10: 1:30-4:00 pm PT
Thursday, April 11: 11:00-1:00 pm PT
We are booking appointments now! Apply now to get booked for the show. Spots are very limited and we want to showcase the very best from NAB. Each guest will get between 10-12 minutes to showcase their new and exciting products.