Use Pro-grade Equipment to Amp Up Business Videos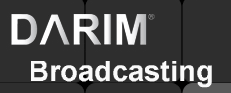 YouTube has a large consumer presence, but it is also used by many businesses to communicate messages about their products and services. A professional set can deliver the impression of a formal studio setting and deliver a much more professional appearance.
Virtual studios are an extension of green screen technology – permitting the talent to appear to be sitting in an ultra modern studio costing millions of dollars. This system from DarimVision, called V-Studio  allows corporate or podcaster video producers to produce videos for YouTube that rival commercial productions – in either prosumer or professional models.
[cessponsor]
TPN Interview by Andy McCaskey of SDRNews.com
Podcast: Play in new window | Download
Subscribe: Apple Podcasts | RSS | More