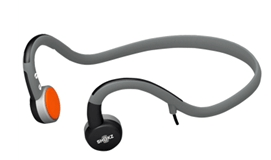 We learned about bone conductive technology a few years ago, when it was in it's infancy. AfterShokz has taken it to the consumer. The new headphones boast a healthier environment because they go over, instead of in, the ears and rest on the cheek.  You are not closed off from the world while you're running, biking, etc.
There are three models of AfterShokz, one of which has an inline microphone making it suitable for phone calls as well.  The models begin at $59.95 for the Sport, and go up slightly for the Mobile and Gaming models.  There is also a Bluetooth model in the works.  You can learn more in the video below and by visiting .
Interview by Jeffrey Powers of Geekazine.
Podcast: Play in new window | Download
Subscribe: Apple Podcasts | RSS | More