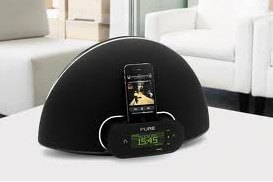 Internet Radio has grown up with this internet connected radio with iPhone and iPad dock from Pure. When you are using the internet radio features to listen to one of the  just over 17,000 internet radio stations available, you can slide in the docking drawer for a smooth appearance. To play from your iPhone or iPod, touch to slide the drawer out.  Pure is just moving into the US market, out of a very successful base in the UK and other regions of the world. In fact, Pure is the biggest digital radio manufacturer (WiFi and LAN) in the world. They also include FM broadcast for local stations.
At CES2011, Pure also launched Flow Songs, which allows you to purchase music direct from your radio- using Shazaam technology.
Save 25% on 4GH Hosting 1yr Subscriptions Save 25% Promo Code CES2.
Podcast: Play in new window | Download
Subscribe: Apple Podcasts | RSS | More