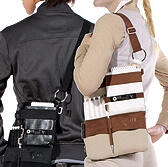 Remember the Butt-pack of the 90's? Well, this goes one step further and it's looks cool.
Urban Tool is a series of wrap-around bags for everyday use. They have something for everyone. We were most impressed with the Golf bag – a wraparound that holds balls, tees, scorecards, divot tools and more.
They even have full size shirts with pockets for iPads, MP3 players and more. Everything from Hip-packs to arm bands to holsters. It's like a tool belt for your digital devices.
Interview by Jeffrey Powers of Geekazine
Get your 14 day Free Trial of Audible Gold to start Listening to great Books!
GoDaddy services saves you money! New Customers Save 25% Promo Code CES25.
Podcast: Play in new window | Download
Subscribe: Apple Podcasts | RSS | More