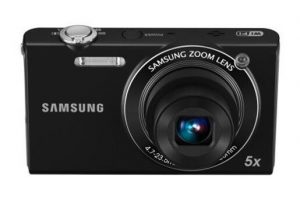 Ever since digital cameras came along, I wondered when they would get a direct connection to the computer so you can click and send without having to clean out a card. Technology took us to cards that had WiFi on them, but now Samsung has a camera that had built-in WiFi that does even more than I expected.
The SH100 is the newest camera in the Samsung line. It has a 14.2 MegaPixel sensor with 5x zoom, but more important – Once you take a picture, you can send it to your favorite place. A hard drive, Facebook, Twitter, iPad or where ever.
What I really was surprised about was the fact you could use your Smartphone as a proxy viewfinder. If you need to hold the camera up in the air, the camera will send the video to your Smartphone so you can see what you are taking.
The SH100 will be available for $199.99 in March.
Interview by Jeffrey Powers: Geekazine
Podcast: Play in new window | Download
Subscribe: Apple Podcasts | RSS | More